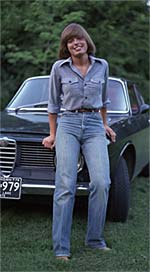 Jan Underhill, Owner, JR Underhill Communications
Graphic design, art direction, marketing
Jan Underhill's interest in advertising goes WAY back—starting with a late '60s retail sales job that helped her save and pay for college.
Formal education: B.A. in History and Art, Grand Valley State University, Allendale, Michigan (1979). Spent time along the way minoring in music (piano) and majoring in English at Calvin College. Also attended Kendall College of Art and Design in Grand Rapids.
Upon graduating, she learned that the work skills she acquired while finishing college— production in typography and printing—would prove crucial to her career prospects. A publishing job offered satisfying design opportunities but no future prospects that compared with advertising agencies, so that is where she turned next. In 1980 she became a freelancer and has been independently adding technical expertise, marketing experience, customers and community involvement ever since.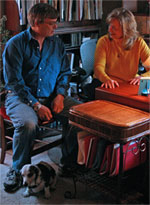 Robert Underhill, Part-time Specialist
Writing & research, photography, video, CAD design
Robert Underhill turned from work as an engineering technician to selling typesetting to advertising agencies in the late 1970s. Providing knowledgeable and time-sensitive service to art directors and production managers under stress earned him much customer gratitude until desktop publishing made his job obsolete.
Jan and Bob first met as salesman and typesetting customer. After they joined forces in 1986, it was decided that Bob should complete the degree in electrical engineering he'd been working on part-time for several years, and the couple moved from Grand Rapids to Kalamazoo in 1987 to accomplish this. Bob completed his B.S.E.E. in 1989 and is primarily employed as a service engineer for a medical imaging company in Grand Rapids.

Jacques Cousteau, Modeling and Public Relations

Jacques Cousteau Underhill was named after one of the pioneering legends of scuba diving and is quickly becoming a legend himself, contributing to J.R. Underhill Communications' promotional efforts with great enthusiasm and patience. He is also a welcome presence on the Great Lakes scuba diving adventures that the Underhills undertake in order to explore and photograph historical shipwrecks, as was his predecessor, Mike Nelson. See "Our Advertising Life in Dogs" if you're interested in knowing more.