Encore Magazine published a story featuring Jan and Bob Underhill's involvement in scuba diving on Great Lakes shipwrecks along with running a graphic design and advertising business.

The Kalamazoo Gazette included Jan in a supplement entitled "Women in Business" that offered interviews with a range of Kalamazoo area businesswomen.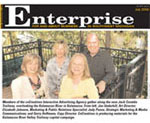 Enterprise, a publication of the Kalamazoo Regional Chamber of Commerce, published an feature article on various types of business partnerships including the coCreatives group, of which Jan was one of the founders.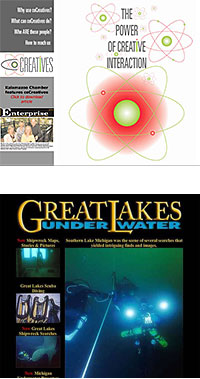 coCreatives was a joint partnership of business, design, media and creative resources, a group of communications professionals that worked independently or together to meet clients' marketing and communications objectives. This interactive collaboration worked effectively in producing desired communications results and maintaining a significant level of cost-effectiveness. Click to visit the site


GreatLakesUnderwater.com showcases stories and images from a significant Underhill sideline. Bob Underhill has explored Great Lakes shipwrecks for the past 40 years—and Jan's fascination with history drove her to overcome a water phobia to join him in this activity. A side effect of this pursuit has been ample opportunities to practice and experiment with challenges in photography, video, marketing, and graphic and web design. Click to visit the site where you can read shipwreck stories and take tours on them without getting wet.