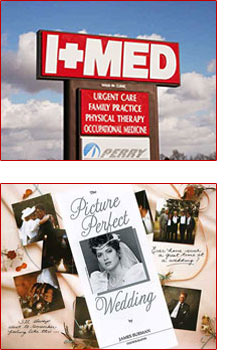 Testimonials
"Thank you for the prompt, professional layout of all of the projects we've given you! The hand-out materials are so well-done, and it really makes my job so much easier."
Lynda Read, Director of Client Relations
Three Rivers Area Wellness Center
"I just wanted to thank you for your help, good sense, and good taste. There are too many businesses around that will design a look for you according to their impressions of where you're at instead of listening to where you want to be and putting it together from there. You're not one of them!"
Jim Burman
James Burman Photographs
"Jan has been a wonderful service provider, she designed our first logo and website. From there she has become a wonderful business friend and a board member for a term at PDTC. Jan offers a friendly knowledgable service; I would recomend Jan to anyone who is looking for a high quality graphics person."
Stacy Rodgers, Executive Director
Professional Training and Development Center
"Jan created my MindProd logo, print identity pieces and my website. She lends a unique flair to her clients' requests for image materials - with a crisp graphic sense that's not overbearing. Her designs state who you are and what you do in a precisely packaged visual impact message - and it is amazing what she can do on a budget! I highly recommend Jan, J.R. Underhill Communications... and all the team at "Co-Creatives."
Patrice Mindock
Mindock Productions
"Jan is like a member of our team. Because she understands what we do, she is able to provide great customer service and quality work for a reasonable fee. Oftentimes the timeframes are quick, and Jan has always come through."
Judy Sivak, Director
Region IIIA Area Agency on Aging, Kalamazoo Co. Health & Community Services Department
"Jan helped me conceptualize my Web site, designed it, and helps me maintain it. The best compliment I can give her is that my clients think it's a great site that accurately reflects my company. Easy to work with, responsive, creative, supportive, flexible, and reasonably priced -- these all apply to Jan."
Jan Andersen, President
Beyond Words Inc.
"Thanks for the fine job you did on this ad—the client was very complimentary and very, very happy!"
Oakley Sovereign
Sovereign Incorporated
"Wow! What a nice surprise! We received our copy of the March M.D. News. Thanks for putting us on the back cover. The ad looks great; thanks also for the extra production touches that were incorporated. We'll look for the ad to run again in June. Thanks for all your help."
Amy Tefft
Comerica Bank
Awards

American Advertising Federation
Addy Silver & Addy Merit awards
West Michigan Shores Society for Technical Communication
Distinguished Technical Communication & Merit Awards
Great Lakes Information Network Site of the Month